UNISON Protect Insurance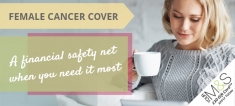 19/08/2016
Female Cancer Cover - a financial safety net when you need it the most!
£25,000 cash benefit on first diagnosis of a covered female cancer or carcinoma in situ of the breast (an early stage cancer which hasn't spread).
£2,500 cash benefit on first diagnosis of carcinoma in situ in any covered female organs other than the breast.

£50 inpatient benefit for all overnight hospital stays, up to £4,500.

£25 outpatient benefit for all hospital visits, up to £1,000.

For UK residents aged 18-69.

No medical or health questions.

This policy is underwritten by AIG Europe Limited.

Plus, apply today you'll receive a £30 M&S gift card - offer ends 31st August 2016. One gift card per customer. Sent within 14 days after we receive your second premium.
Previously diagnosed cancers are not covered.
See below a link to the website for more information.
Contacts / Links

www.unioninsurance.co.uk/…
Join
UNISON
Join UNISON in just 3 minutes - all you
need is your bank details and you're set.
Join now
Need help?
Find out who to contact for help, or where
to find the information you need.

01244 346894