Thank you to all our Public Service Champions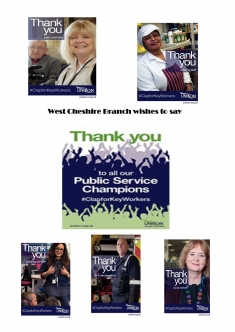 Branch Collage
05/05/2020
The West Cheshire Branch of UNISON would like to take this opportunity to thank all our members for all their hardwork and dedication during this crisis. Your commitment during this crisis will not be forgotten - we won't allow it!
Join
UNISON
Join UNISON in just 3 minutes - all you
need is your bank details and you're set.
Join now
Need help?
Find out who to contact for help, or where
to find the information you need.

01244 346894